I am joining
Taylor
this week and linking up with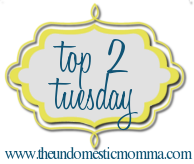 and this weeks topic is
Top 2 Drinks (alcoholic or non)
!. My absolute favorite drink is Dr Pepper!! Got to have it in the mornings!! If I dont look out world!
2. Coke takes second because I cant eat cake or Mexican without it. Yeah I know your supposed to have milk with cake or cookies but not me. I must have Coke lol
So join us this week and link up your top 2 drinks!!!