Update on Peyton:
Yesterday when I got home he was really in a lot of pain. His throat was really hurting and he could hardly talk. It took him a long time to go to sleep and once he fell asleep he was up again at 5 =( He has a regular doctor visit today with his peds, so I will have her take a look at his throat to make sure all is ok. Thanks for thinking about him.
And now its time for Tuesday Following!
Follow me Back Tuesday!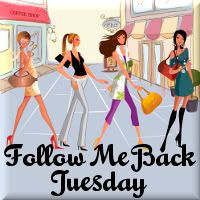 And lastly Tuesday Tag Along!